Catton artist Jos Mahon, set herself a project, walking up to and painting from the many triangulation points, formerly used for mapping purposes, on the high uplands within the North Pennines AONB. She carried her painting gear, usually accompanied by her faithful dog who would sit by her keeping watch whatever the weather.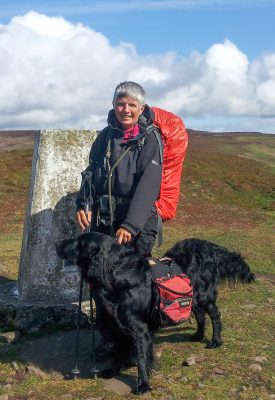 She worked throughout the seasons from these remote, often windy vantage points.
While sitting or standing, back against the concrete trig point sheltering from the wind, she painted / sketched what she noticed and experienced at that time. Shifting clouds, approaching showers, snow, even Cross Fell's notorious Helm Wind, evening sunsets, distant horizons and sometimes she observed grouse shooting taking place not far away!
The paintings selected for this exhibition, are painted from trig points on nearby hills and moors around Alston, Nenthead, Weardale and Upper Teesdale.