We're so pleased to welcome local artist Dominic Richardson back to our mezzanine gallery.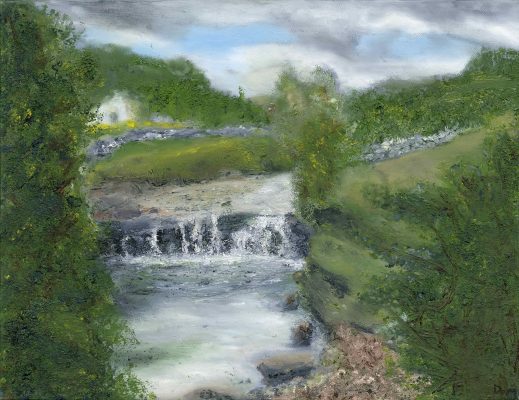 Dominic grew up in Nenthead. At the age of two he was involved in a road
traffic accident that resulted in him acquiring a brain injury. Despite this difficult start,
Dominic has pursued an interest in art undeterred. In fact, he uses the disabilities
associated with his injury to speak through his art in a positive way. His visual impairment
has granted him a unique perspective on the world around him. Finding it difficult to use
brushes Dominic paints with his fingers. This direct contact brings a dexterous layering to
his landscapes and creates a strong sense of immediacy and statement.
Dominic's latest collection is solely focused on the places in Nenthead that have inspired
him during his life there. Places such as 'Frogger' and 'Nent River' are some of the many
locations synonymous with Dominic's memories: riding his bike, swimming in the river and
playing hide and seek; all part of his time growing up in Nenthead.
This exhibition welcomes you to the world of Dominic Richardson